Birmingham

Vickie is an incredible realtor. She worked tirelessly to find us the home of our dreams and encouraged us when the market was out of control for buyers in our area. Her experience is clear and she truly wants what is best for you. I would absolutely recommend Vickey Honzel as a realtor for anyone trying to find a home or looking to sell in the Missoula area.
Marian Lankston

Vickie is a true professional. She is knowledgeable, patient, communicates well, and a pleasure to work with. I would not hesitate to recommend her to anyone wanting to sell their house.
Agnes

Seriously, 5 stars are not enough for our experience working with Vickie! 50 stars would be more deserving. Vickie worked tirelessly for many, many months until she found our dream home. Her gentle guidance, in addition to all the other rated experiences, was invaluable. Vickie was a friend before this transaction but now that the looking is over and the deal sealed, Vickie is now a dear cherished friend.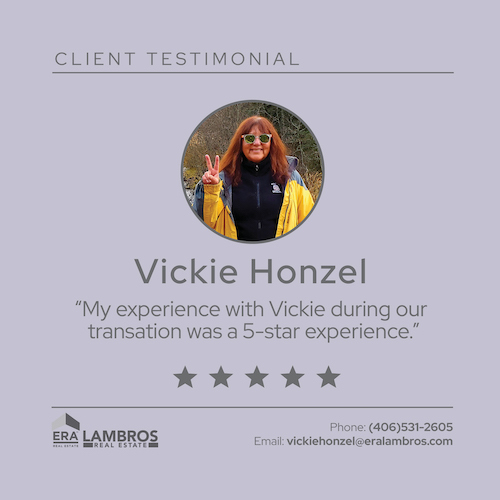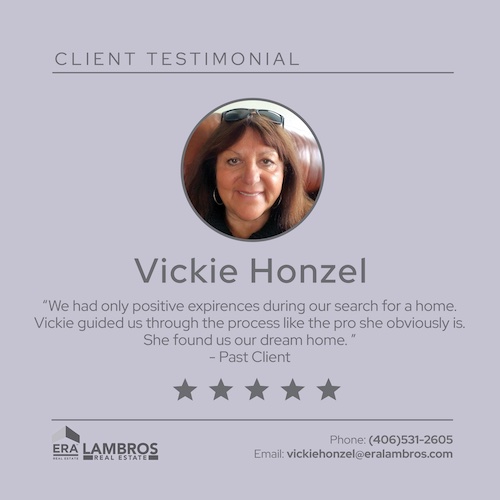 Bitterrootbilly

My husband and I used Vickie Honzel to both buy and sell a home in Missoula. She is wonderful to work with and we would highly recommend using her for any real estate needs you have.
ajandre116

I've bought and sold several homes with Vickie and Chris, and would absolutely recommend them to anyone. They are hard-working, honest, straight-shooters and they know this market inside out. They put in the time it takes, even if they are extremely busy with other clients. The sale or purchase of a home has become a complicated process, but Chris and Vickie stay on top of every detail and keep you well-informed through every step. If issues come up, they really go to bat for their clients, too. I think they are able to negotiate good outcomes for all involved because of the high level of respect they have among their peers in the business. Besides that, they are two of the nicest people you could ever know.
Brian Gomez

We have worked with Vickie as both buyers AND sellers of our first home. If we could have her as our agent in the new state we are moving to we would do so in a heartbeat. I cannot recommend her any higher! 10/10
freebird1735

I have worked with the Honzel's a couple times and they are wonderful. They helped me sell my home at a horrible time in my life and worked every detail out for me with care and diligence ... I have another home listed with them now and would recommend them to every one. Thank you Chris and Vidkie for all you do.....Susan Hogan
Vickie Honzel is not only the most knowledgeable realtor in Missoula, but also the most caring and compassionate. She listens to what her clients are looking for, and works incredibly hard to find them their dream property. Due to her extensive experience in real estate, she is able to maneuver the market with ease and professionalism, providing her clients with a positive experience every time! I've used her expertise in 3 home purchases and multiple consultations for possible purchases, and will absolutely 100% continue to use her in the future!
Vickie Honzel was the realtor when we purchased our condo in Missoula, MT and was our realtor when we recently sold our condo. Vickie is, as a person, one of the nicest, kindest, most pleasant and most patient individuals one could meet. As a Realtor, Vickie is one of the most knowledgable in the field. We are from Mississippi but had traveled for years to Montana for my husband, Carroll, to fly fish. When we decided to buy the condo we saw advertised, we were most fortunate that Vickie was the Realtor for this complex. The first day we met to look at the condo, she brought along with her a contractor, a painter, a mechanical engineer, to answer any question we might have about the renovation. We were so impressed with the professionalism of these men that we just hired them on the spot, without contract. They all became very good friends. Vickie was our Realtor when we purchased the condo next door to become part of the original one increasing the size for accommodating our children and grandchildren. When we bought a garage on the property, she was our Realtor for that transaction. Vickie, and her husband, Chris, a former realtor, checked on the condo early this year as we were in the process of selling, yet still in Mississippi, to make sure the heat was on the right setting during the coldest days. They took care of all necessary for us until we arrived. We recommend Vickie for anything relating to real estate. You will always be thankful that you did. Annelle and Carroll Ingram
Mark Carpenter

Vickie is simply the best. I've worked on multiple sales and purchases with Vickie over the past decade, and I've never had an agent work harder or dig deeper for information on a real estate transaction! She always provides thoughtful guidance when helping make tough decisions and really understands all the dynamics of the market. Will always be my first call!!!
Candace
"Wonderful Vickie!  You are fabulous!  You were upfront and encouraging throughout the whole process.  Your marketing plan worked and the photos were so effective. Your intuition was spot on. We love you too and thank you from the bottom of our hearts. Our best to you and Chris always."